Welcome
Charter Construction Offers Exciting Custom Designs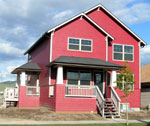 Charter Construction, Inc. was formed in 1998 by partners Leon Chambers and Kimberly Torp.
A reorganization of two strong Montana based building firms created the foundation on which Charter Construction was built.
With thirty years of combined experience in the building industry, Charter Construction strives to raise standards for building construction in Montana.
One of the few local building firms to provide true in-house plan design, Charter Construction offers exciting custom designs, starting the building process with their clients well before breaking ground.
Charter Construction has extensive experience with commercial, multi-family, land development and subdivision projects. Utilizing proven scheduling and notification techniques, Charter Construction is able to complete projects large and small on time and within budgets.